I argue that in addition to emission reduction targets, which only take effect after years, countries should also make temperature reduction commitments and start cooling their countries and cities. For example greening of about 1/3 of the EU's urban areas would reduce urban summer temperatures by 2.5–6°C!
In its latest report, the IPCC warned of deadly heat from the enhanced greenhouse effect in cities at 2 degrees of warming. Previously, scientists wrote that the Earth will become a 'Hothouse Earth' faster and earlier. The climate impact of extreme heat is now becoming tangible. In Asia we currently see temperatures above 50 degrees, in Africa the worst drought in 40 years is at home, in Australia and the US the worst forest fires ever raged earlier and in the Netherlands the soil dries out earlier in the year, the water level of lakes is lowered.
Now it is already possible to take practical measures to immediately reduce the average temperature in town and country. But because the heat itself has now become so urgent, I argue that in addition to emission reduction targets, which only take effect after years, countries also commit to temperature reductions and start cooling their countries and cities. This directly prevents warming to some extent. And the larger the surface area that is addressed in a country, the greater the proportion that gets a lower temperature, resulting in a lower average temperature.
The recently lauched UN Climate Overshoot Commission, consisting of 15 former leaders and ministers are set to give answers on sensitive questions on the role of CO2 removal and geoengineering in climate action. Their interim report is due at CoP27, and their end report at CoP28, End 2023. This will create more awareness and call to action on cooling amongst countries.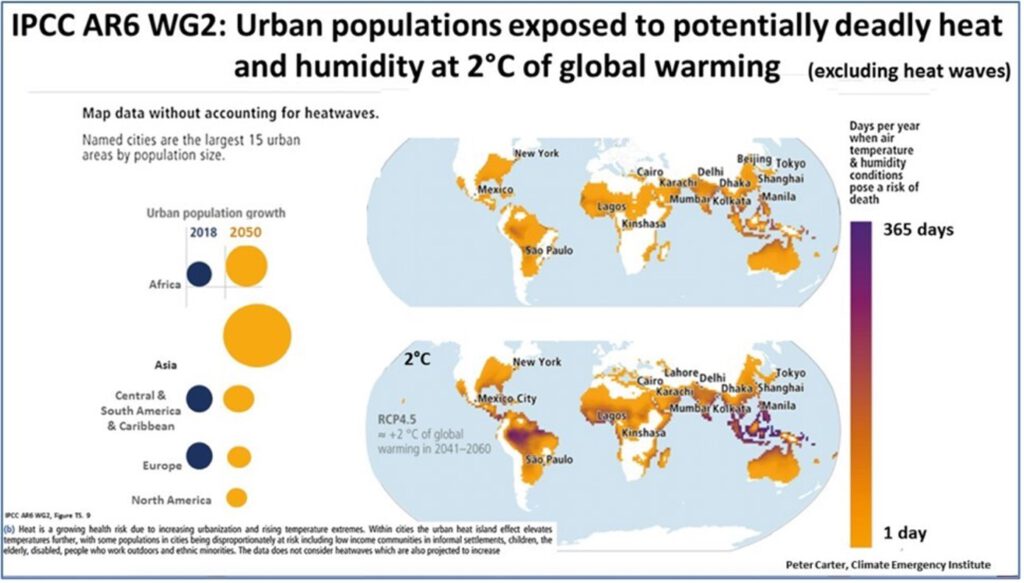 What kind of measures cool down?
• Increase the 'albedo' effect, by whitening surfaces, so that the heat reflects and is not absorbed;
• Greening: more green cools down. Particularly in cities with measures such as laying less stones and asphalt, but more open earth with permanent greenery, trees, even 'tiny forests' and green roofs and facade vegetation in cities and;
• Install water surfaces that also cool the air.
• Large-scale international 'geo-engineering' projects are also being considered, in which, for example, sulfur particles are dispersed in the air or ocean or clouds are made whiter to cool the earth.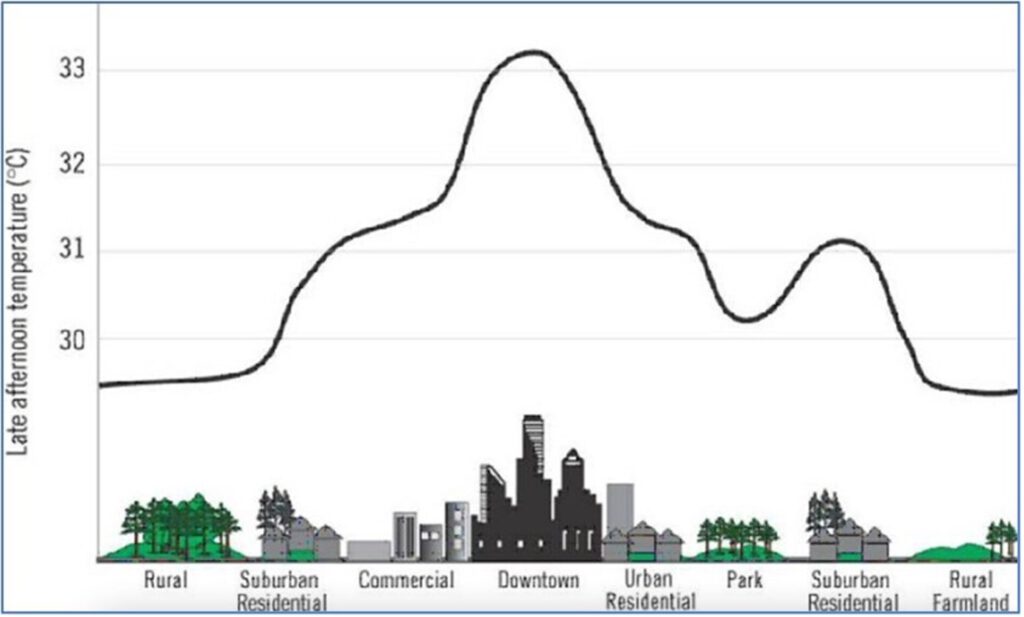 Wat is the effect? A few examples
• Conservation of tropical forests will already keep the earth 0.5 Celsius degrees cooler;
• At the urban level, the albedo effect is exploited by urban planners with Green-Blue-Infrastructure (GBI) and they use models to calculate the temperature reduction. In many countries there are urban GBI initiatives for the benefit of biodiversity and a healthy living environment. Inner cities were already 4 degrees warmer than other parts of the country (Urban Heat Island). Due to warming, it can easily be 10 degrees warmer in large cities than in the countryside and 6 degrees warmer in smaller places.
• Replacing tiles with vegetation can reduce the local temperature by 0.4°-0.6°C. Trees in a street can reduce the temperature by 4.5°C.
• Greening about 1/3 of the EU's urban areas would reduce urban summer temperatures by 2.5–6°C, reducing the urban heat island effect at an estimated NPT of €221 billion over a period of 40 years. The monetary benefits would cover less than half of the estimated costs of greening: biodiversity, water quality, health and well-being and amount to around €60/year per European city dweller.
• Israel has approved a national plan to bring more shade and coolness to urban space, with trees. The aim is to plant 450,000 trees along approximately 3 million meters of streets and achieve 70% shade coverage from trees on sidewalks by 2040.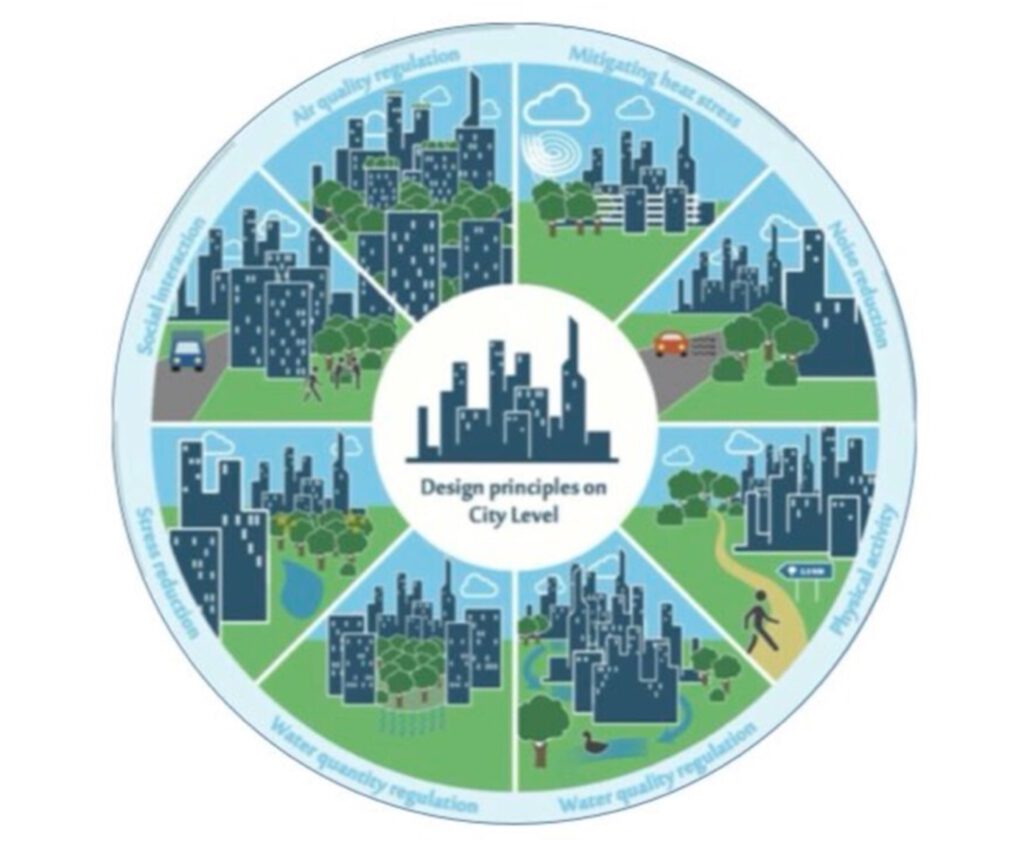 How does science view these measures?
A number of geoengineering options are included in the recently published report of Working Group III of the IPCC (see table below). Until now, this has been seen as additional measures to prevent damage with cooling and lowering and peak temperatures as bycatch. Or as a measure if the goal is not achieved ('overshoot'). It is suggested that solar radiation modification (Solar Radiation Management -SRM) could potentially cool the planet rapidly at a low estimated direct cost by reflecting incoming sunlight.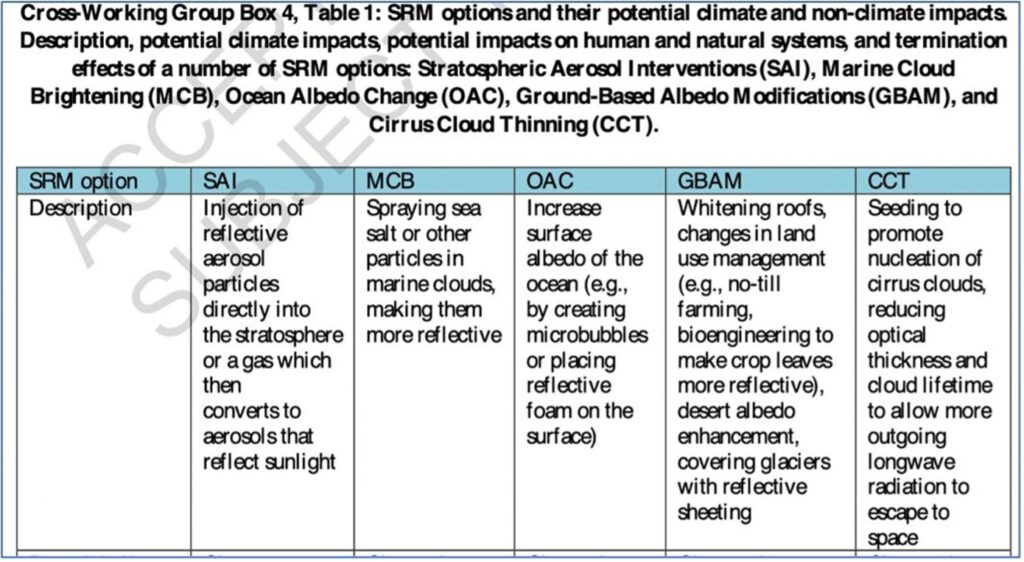 The literature strongly agrees that SRM cannot be the main policy response to climate change and, at best, a complement to achieving net zero or net negative carbon targets worldwide. It is believed that the cause of the problem should be tackled, i.e. reducing emissions.
In addition, to be effective, some measures need to be sustained for a long time, such as annual injection of aerosols, or continuous spraying of sea salt, which is in contrast to the long life of CO2 and its climate effects, whereby global warming due to the CO2 emissions are likely to remain at comparable levels for a hundred years or more. And people are afraid of possible negative effects and air pollution that geoengineering can bring with it and new challenges such as international justice and governance of the measures.
In my opinion, the more harmless measures mentioned earlier, increasing the albedo effect, greening and adding water surfaces are candidates for measures that countries can take to actually realize cooling. Moreover, because they have other co-benefits. The reports of the Climate Overshoot Commission will also show which measure are regareded as less harmless and this will create more awareness amongst countries ans willingness to act.
So why not make cooling part of national agreements?
Countries could make an agreement in their Climate Plan to effectively reduce the average temperature in their country by x° Celsius. I am curious to see what scale can be achieved, but the above examples are promising. The elaboration must of course take account of differences between countries, climate zones and weather types and the extent to which they can achieve lower temperatures locally or regionally. And it will not be possible to agree on a mandatory final temperature reduction. However, concrete cooling can already be achieved. Especially now that the world is slowly reaching 1.5 degrees Celsius, temperature reduction measures taken by countries have an immediate effect.