The European Commission's "Impact Assessment", presented with the climate proposals for 2030, describes various scenarios for achieving the CO2 targets. What is striking is that there is still a gap in the emissions budget. The Commission wants to promote CO2 storage in nature and soils through additional market incentives. That is indeed an important, but also unpredictable option. I believe the necessary additional flexibility is predictable and more affordable through market mechanisms. Moreover, this is also necessary if the EU wants to reach negative CO2 emissions after 2050.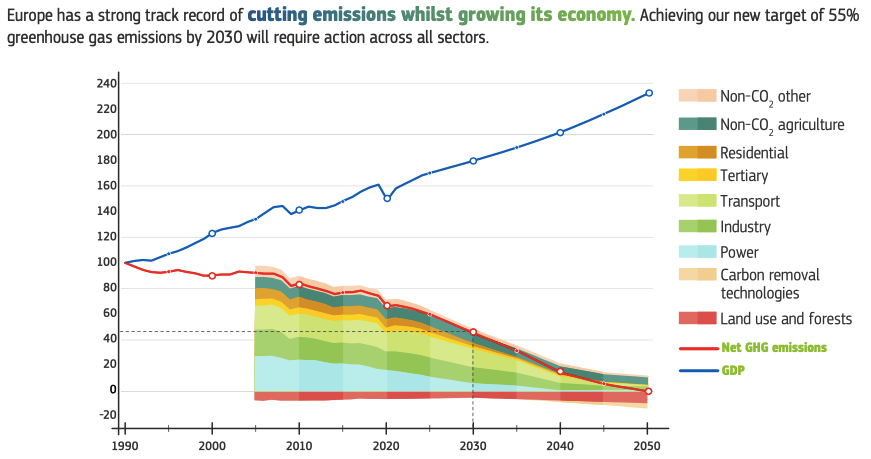 At the presentation of the 55% CO2 target for 2030, by European Commissioner, Frans Timmermans on 17 September, it appeared that about 5% should come from carbon sequestration in soils and forests: the emission gap (see figure below the 0 line).
In my opinion, there are three conditions
Member States must first reduce land use emissions from agriculture and peat meadows and forest clearing. Now more is being emitted than is being recorded. So it should definitely be done, but it doesn't count immediately.
Strong agreements must be made in the context of the carbon accounting of the Paris Agreement. This is being negotiated. For example, some countries use easy baselines, so that only the commitment counts and not the previous release, and they stretch definitions of permissible natural disturbance;
There is a lack of support from nature and environmental organizations that do not want to compensate emissions from coal-fired power stations with nature, because CO2 sequestration is temporary there. It is therefore important that the European Commission presents an evaluation of the long-term reduction potential in spring 2021.
Flexible Mechanisms
The European Commission also mentions a number of flexible market mechanisms for within the EU. They are first considering a separate CO2 trading system for the construction and transport sector and later want to link it into the EU ETS. That is indeed better than an immediate link. The costs in these sectors are much higher per ton of CO2 than in the ETS system, which removes the incentive there. In addition, we can first gain experience with the national ETS system that Germany starts in these sectors.
Removal credits
And the Commission is thinking of CO2 trading or auctioning between governments of the emission budget in the non-ETS sectors. They want to develop a business model for carbon sequestration in soils, and for "direct air capture" ("DAC": removing CO2 from the air) a "removal credit mechanism" is also in preparation. Credits from these projects can then be purchased by governments or by companies under the EU ETS system for additional CO2 reduction.
"Good that more attention is being paid to the use of flexible mechanisms"
Market Mechanisms more effective than taxes
The European Commission says it does prefer CO2 trading over taxation, because, according to the assessment, "emissions trading enables reductions to take place where least costly". It is therefore striking that the European Commission has not yet included one upcoming flexibility, namely the international market mechanism. The parties under the Paris Agreement have been working on this for years: the so-called Article 6: "Transfer of International Mitigation Outcomes (ITMOs)". German Secretary of State for the Environment, Jochen Flasbarth, said during New York Climate Week at Gold Standard's event on September 22, "Art 6 reductions come on top of the 55%." With the global CO2 market, according to research by the University of Maryland, among others, twice as much CO2 reduction can be achieved with the same money. Many developing countries, from Mexico to Kenya and Thailand, indicate in their climate plans (NDCs) that they also want to contribute to this.

Perhaps the global CO2 market will be discussed in March 2021, when the European Commission will proposes concrete adjustments to the EU ETS. The ETS can also be linked to other ETS systems, so that companies can use each other's allowances, such as from 2021 with Switzerland. Think of the ETS in Canada, California, New Zealand, Mexico, China. But it is important to include this option now.
Amendment for international offsets not supported yet
The European People's Party (EPP Group) tabled an extensive amendment to the European Climate to assess the use of intebtional offsets in line with the Paris Agreement . This refers to affordability, competition protection of the EU industry. It is also demanded that no double counting takes place and that countries must report properly. Perhaps one should propose a maximum, say 15%, of the required CO2 reductions. This would increase the chance of political support.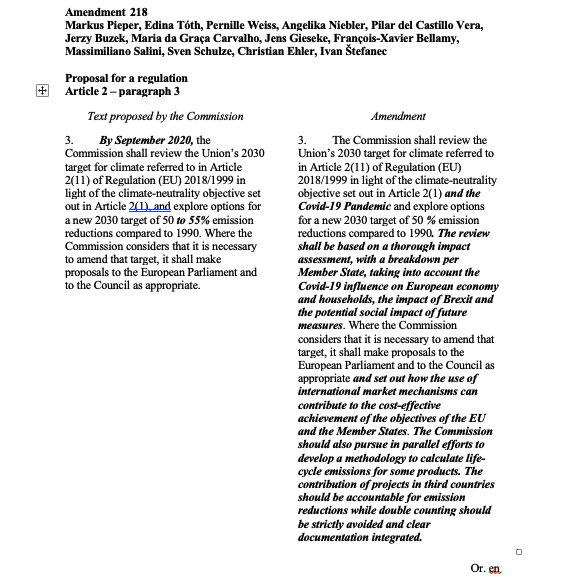 Switzerland signs CO2 deal with Peru; Sweden prepares deals
Switzerland uses the global carbon market for 50% of its 2030 CO2 target. Oct 14 the Switzerland signed already an Agreement with Peru for cooperation on this (Agreement hehttps://www.bafu.admin.ch/bafu/de/home/themen/klima/fachinformationen/klima–internationales/staatsvertraege-pa-art6.htmlre). They plan more deals with Ghana and otgers Earlier, the German Agora Energiewende also called for various flexibilities to be agreed by the EU to make the 2030 goals more affordable. And the German Frankfurter Algemeine suggested: "Ein Option wäre dass die EU Projekte in Drittstaaten auf das 55% Ziel anrechnet." Sweden in the mean time is preparing CO2 deals with Ethiopia, in the energy sector, one will be focused on the waste sector in Nepal, and one will focus on the manufacturing sector in Cambodia.
Follow-up
The EPP Amendment did not receive enough votes yet. The EU Council in December may want to considers it. And it can be taken up at the ETS Review in 2021. At an event October, 12, EP Pernille Weiss of EPP said the EU should still consider using international offsets.
It is good that more attention is being paid to the use of flexible mechanisms. After 2050 extra CO2- reductions via the international CO2 market are necessary for the EU to achieve negative emissions, without which we would not reach 0 emissions globally.