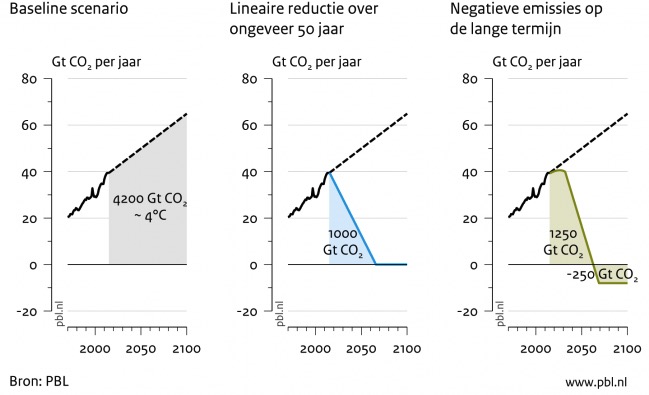 The Paris Agreement requires to have the same amount of global greenhouse gas emissions as reductions by 2050 in order to remain well below 2 degrees warming. The Netherlands Environmental Assessment Agency with IIASA translated this target into carbon budgets (just for CO2). Each year we emit 40 billion tons of CO2. So, we currently have a remaining carbon budget for 25 years of around 1,000 billion tonnes of CO2. If we want to remain within 1.5 degrees, we may not exceed 600 billion tons of CO2 emissions. That means that we have to get in 25 years in a sharp line to zero CO2 emissions in 2040. Anyways power generation should be CO2 neutral in 2060, PBL writes.
We have a remaining carbon budget for 25 years of around 1,000 billion tonnes of CO2
They, however, offer also a different scenario in which we have a little more space and flexibility. This can be realized by generating 250 billion tons of 'negative emissions'. We need that flexibility of negative emissions for developing countries, that are not that far in CO2 cuts by 2050 AND our coal and gas plants still have not been written off and also CO2 storage is still in its infancy. To reach negative emissions is therefore insurmountable! It is necessary to make experience with it now. Therefore, the EU should aim for negative emissions, additional to their current targets of 40% CO2 reduction by 2030 and 80-95% reduction by 2050. The EU should aim for -50% in 2030 and 20% negative emissions in 2050.
We need that flexibility of negative emissions
There are three ways to achieve negative emission:
1) Besides bringing own emissions to 0, to also reduce CO2 emissions outside the EU; then you reduce more than you yourself emitted.
2) by literally realizing negative emissions, i.e., to sequester CO2 into biomass and use it in coal-fired plants or as biogas in the industry and to capture the CO2, and to store (CCS). Co-firing is partly CO2 neutral; the capture and storage makes it than CO2-negative. Another example is realized in Hengelo, where the charcoal of a biofuel plant (biochar) can be stored after pyrolise into soils or as dike material. There are also experiments to capture CO2 from the air and the projcet in Friesland to absorb CO2 with algae. So this is practically possible! PBL rightly points to the fact that biomass is not infinitely available and must not be at the expense of food supply. This can be done by not mixing the biofuel already available in petrol, but used that available biomass for projects with negative emissions. CPB publishes soon a policy brief on this.
3) Another way to achieve negative emissions is via the CO2 market. With tropical forest conservation (REDD), methane reduction in landfills and renewable energy projects. The US Environmental Defense Fund, for example, developed 'options' for REDD credits. Businesses can buy these now and convert them later at additional cost into credits for compliance. These credits can already be realized and could be acknowledged in the future under the European emissions trading system.
How can this be translated into concrete policies? I outline three steps for the EU:
Already in 2030, achieve 10% negative emission reduction outside its own territory. This CO2-credits may be linked to the European emissions trading system in the future. The plans (INDCs) of developing countries also offer ample potential there.
In 2050, in addition to the 80/95% CO2 reduction realize 20% negative emissions (so, beyond zero). For the mathematicians among us: this is -20% compared to for example base year 2015
The upcoming tightening of the European emissions trading system cand accommodate this by requiring companies after 2030 to surrender for each 1 tonne of CO2 emitted, 2 of allowances an 3 allowances as from. That fits with an economy that goes CO2-neutral. Most of these allowances or credits will have to come from outside Europe. In 2050 there will hardly any European allowances be available.