Switzerland and Peru agreed in October 2020 to work together on CO2 reductions; in November 2020 Switzerland signed an agreement with Ghana. The latest update is that Switzerland signed in June 2021 a CO2 deal with Thailand.
And the oil company Total supplied climate neutral LNG to China. compensated with projects in China and Zimbabwe. The first is an example of the "mandatory CO2 market": the country buys carbon credits to helps meet its CO2 obligation under the Paris Agreement. The second is an example of the "voluntary carbon offset market": the buyer can claim the service or product becomes 'climate neutral' for remaining emissions. This means it reduced the overall impact on the climate via additional reductions elsewhere. The reductions help the country where the reductions took place to reach its national target (see paper of ICROA). The company that buys these voluntary credits keeps of course CO2 obligations in its own country.

Deal on Internationally Transferred Mitigation Outcomes (ITMOs)
Switzerland and Peru agreed to work together mid-October to increase the climate ambition of both countries. Switzerland has a 50% reduction target by 2030. They want to achieve 12.5% ​​via the global CO2 market. According to Article 6 of the Paris Agreement, a country may use the surplus CO2 reduction of another country to help achieve its goal through so-called "Internationally Transferred Mitigation Outcomes" (ITMOs). Countries indicate in their climate plan which reductions they definitely want to achieve: "unconditional"; and which only with support: "conditional". Peru's "unconditional" CO2 target is a 20% reduction from "business as usual" (approximately 14% above 1990 level). Peru indicates that it can reduce 10% more under the "condition" of "carbon financing".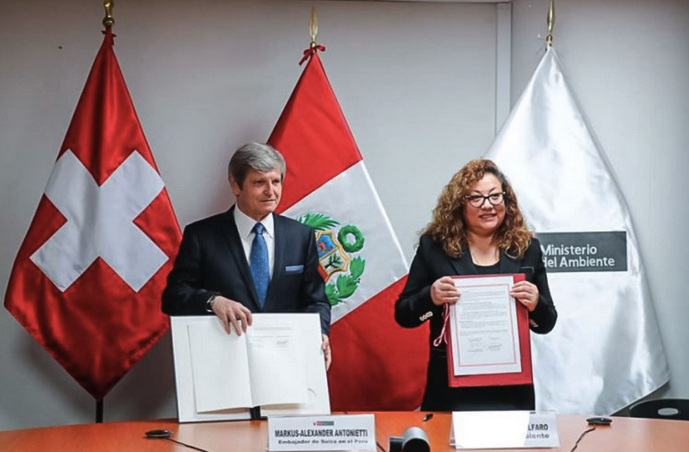 Both countries make use of this. Peru can reduce more with regard to forest protection and renewable energy. Switzerland invests 20 million euros. This is spent on the Tuku Wasi program, among other things. Efficient cooking appliances are distributed, which means that less wood is used and less deforestation takes place. Peru is also negotiating similar CO2 agreements for the waste sector with Scandinavian countries. One part of the extra reductions counts towards the Peruvian CO2 target; the other part for the Swiss (see figure below). Peru just lauched an emissons reduction registry at IHS Markit to help track activities and the future transfer of ITMOs.
The signing of this agreement is an example of how cooperation between countries can facilitate the fulfillment of our climate goals and —at the same time— bring prosperity as well as well-being for our citizens (Peruvian Environment Minister Kirla Echegaray)
They agree that the reductions transferred to Switzerland (ITMOs) will not be counted twice. That is entirely in accordance with article 6.2 of the Paris Agreement. This means that Peru will deduct the reductions that it transfers to Switzerland from its own reporting ("Corresponding Adjustment", CA). In doing so, they are anticipating rules that will be agreed at the Climate Summit in Glasgow at the end of 2021 or the next Summit. New Zealand minister James Shaw told Carbon Pulse that Art 6 rules can even emerge earlier from these kind of deals than from the UN talks themselves.
Art 6 rules can even emerge earlier from these kind of deals than from the UN talks themselves: New Zealand minister James Shaw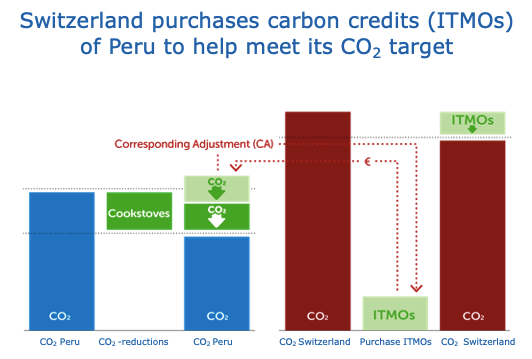 Climate neutral LNG
Total announced that it will supply their "First Carbon Neutral LNG Cargo" to China's National Offshore Oil Corporation (CNOOC) in Dapeng. The LNG comes from a production location in Australia. CNOOC thus sells CO2-neutral gas to domestic customers. The user remains responsible for the CO2 emissions from the use of the gas. Earlier this year, CNOOC already bought climate-neutral LNG from Shell.
This first LNG shipment, whose carbon emissions have been offset throughout the value chain, represents a new step as we seek to support our customers towards carbon neutrality (Laurent Vivier, President of Total)
The CO2 emissions from production and transport are offset by two CO2 reduction projects:
The reductions for wind energy and forest protection help meet the CO2 targets in China and Zimbabwe respectively. Total does not reduce the CO2 emissions with this of its own installations in Australia. These investments are on top of that. Large CDM wind projects like the above are no longer used by most compensation providers because these are already commercial and profitable. Moreover, the Kyoto Protocol, in which the CDM is regulated, will end this year and the CDM will therefore also expire this year. REDD projects and cookstoves projects, such as in Peru, are widely used in the voluntary CO2 market.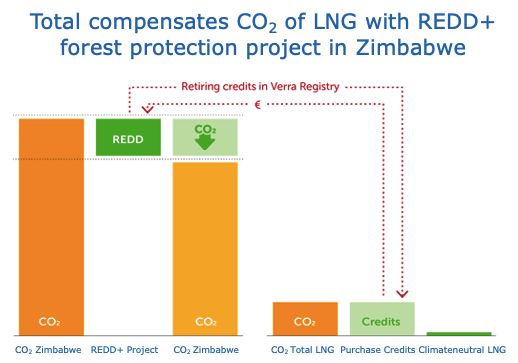 The CO2 market will play a role in achieving the Paris Agreement
According to a study by Climate Focus, ten countries, including Canada, Japan and Chile and a number of international organizations, such as the World Bank, EBRD and Nefco are engaged in such international CO2 pilots.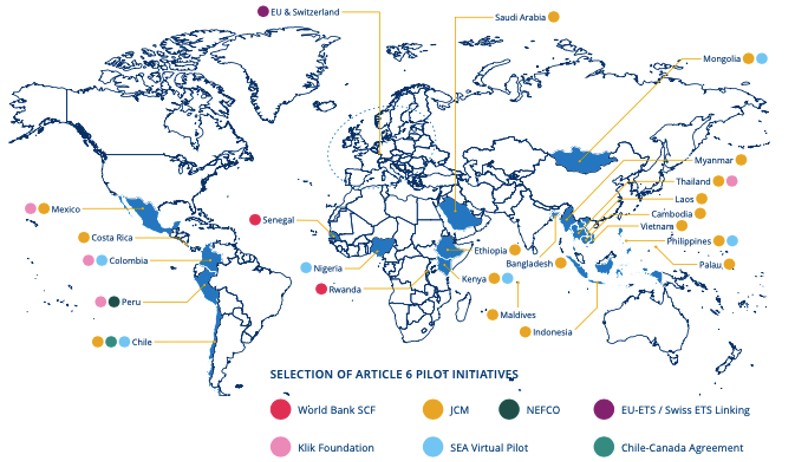 These examples illustrate how two countries can achieve more ambitious CO2 targets using the CO2 market and international transfer of carbon credits. And companies that voluntarily offset their CO2 emissions through international CO2 projects contribute to achieving their CO2 target in those countries. These companies do this out of responsibility for their climate impact or because they want to sell climate-neutral projects or services. Companies that agree on the CO2 plans within the framework of the Science Based Targets may also use offsets in addition to their own reductions.

Future developments: EU Climate Law and EU ETS
In the future, the scope of CO2 obligations will increase and more sectors and companies will receive a CO2 tax from their government or fall under emissions trading. As a result, the reductions that are realized in another country will have to be transferred to contribute to the country in which that company is located (so-called Corresponding Adjustment).
I hope that the European Member States will also make use of this opportunity. Sweden prepares CO2 deals with Ethiopia, Nepal, Cambodia. German Secretary of State for the Environment, Jochen Flasbarth, said at a meeting last month that Art 6 reductions could be on top of the EU's 55% reduction. In November Switzerland signed it second ITMO agreement with Ghana, and more are planned.
In the European Parliament, an amendment proposal for this from the EPP has not yet achieved a majority. But the examples mentioned certainly deserve to be followed. The EU Council will discuss the European Climate Law again in December. Also, this approach can become part of the ETS Reviews that will be discussed Spring 2021.