Switzerland and Thailand in February 2023 further elaborated their initial deal and agreed that Switzerland will invest $100mln in Thailand in CO2 reduction projects. Thailand can transfer credits, such as 1,5 Mt of an E-Bus project, to Switzerland as #ITMOs if the cuts go beyond the Thai NDC target. Switzerland can then meet part of its target with it Article 6 of the Paris Agreement. Switzerland has a 50% reduction target by 2030. They want to achieve 12.5% ​​via the global CO2 market. According to Article 6 of the Paris Agreement, a country may use the surplus CO2 reduction of another country to help achieve its goal through so-called "Internationally Transferred Mitigation Outcomes" (ITMOs).
And in the private sector, off-shore provider Heerema Contracting Services has a target to reduce its scope-1 and 2 GHG emissions in 2026 with 80%. And to become climate neutral immediatly it compensates all current 250.000 ton GHG emissons in with 4 eligible carbon credits, amongst others in Kenya and Nigeria. Its Scope-3 emissions are being looked at as ultimately the entire footprint of Heerema will need to be reduced to zero.
The first is an example of the "mandatory CO2 market": the country buys carbon credits to helps meet its CO2 obligation under the Paris Agreement. The second is an example of the "voluntary carbon offset market": the buyer can claim the service or product becomes 'climate neutral' for remaining emissions. This means it reduced the overall impact on the climate via additional reductions elsewhere. The reductions help the country where the reductions took place to reach its national target (see paper of ICROA). The company that buys these voluntary credits keeps of course CO2 obligations in its own country. The voluntary carbon credit programmes, like Verra and Gold Standard register, track and retires the credits.
How countries can avoid double counting?
In the Switzerland-Thailand case, it would mean that one part of the extra reductions counts towards the Thai CO2 target; the other part for the Swiss. That is entirely in accordance with article 6.2 of the Paris Agreement. This means that Thailand will deduct the reductions that it transfers to Switzerland from its own reporting ("Corresponding Adjustment", CA), see figure below.
The bilateral agreement regulates the cooperation between the two countries and establishes the legal framework for the implementation of climate protection activities by the KliK Foundation (Foundation for Climate Protection and Carbon Offset KliK). By purchasing the resulting ITMOs, the KliK Foundation makes the programme financially viable. The ITMOs achieved with KliK Foundation's financial support are transferred in accordance with the bilateral agreement and used to meet Switzerland's emission reduction target under the Paris Agreement. The cooperation agreement ensures that the ITMOs, in addition to Thailand's unconditional NDCs (Nationally Determined Contributions), meet the highest standards of quality, environmental integrity, SDGs and human rights. To avoid double counting, Thailand commits to increase its emissions balance by the amount of ITMOs transferred to Switzerland.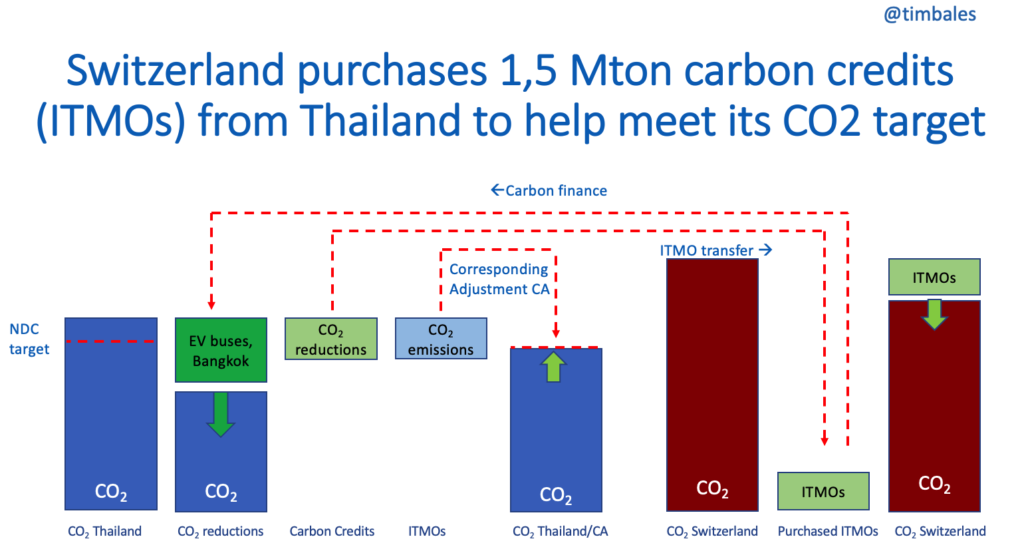 The CoP27 in 2020 in Glasgow decided that:"Each participating Party shall have, or have access to, a registry for the purpose of tracking and shall ensure that such registry records, including through unique identifiers, as applicable: authorization, first transfer, transfer, acquisition, use towards NDCs, authorization for use towards other international mitigation purposes". Markit is preparing a Carbon-Meta Registry such as well as the World Bank is, with its Climate Warehouse is. In CoP28 parties decided what information an ITMO registry should collect to keep track of emissions, reductions and transfer of credits to avoid double counting amongs countries. See here how also other countries are preparing using Art 6 as well as the voluntary carbon market.

Other Swiss deals Deal on Internationally Transferred Mitigation Outcomes (ITMOs)
In October 2020, Switzerland and Peru agreed to work together on CO2 reductions; in November 2020 Switzerland signed an agreement with Ghana. Switzerland and Peru agreed to work together increase the climate ambition of both countries. Countries indicate in their climate plan which reductions they definitely want to achieve: "unconditional"; and which only with support: "conditional". Peru's "unconditional" CO2 target is a 20% reduction from "business as usual" (approximately 14% above 1990 level). Peru indicates that it can reduce 10% more under the "condition" of "carbon financing". Both countries make use of this. Peru can reduce more with regard to forest protection and renewable energy. Switzerland invests 20 million euros. This is spent on the Tuku Wasi program, among other things. Efficient cooking appliances are distributed, which means that less wood is used and less deforestation takes place. Peru is also negotiating similar CO2 agreements for the waste sector with Scandinavian countries.
In the private sector: voluntary offsetting and avoiding double counting
Heerema Contracting Services is aiming to reduce 80% of its GHG emissions by 2026 and to become immediatly compensate all current 250.000 ton GHG emissons to become climate neutral. It has therefore been audited by a third party according to the Climate Neutral Certification Standard and has received an official certificate by the Climate Neutral Group of compliance as a result of the audit. It aims to reduce the footprint and emissions by focusing on the pillars Prevent, Reduce, and Compensate. That is why, in 2020, it started investing in carbon offset projects that have been independently verified and also contribute to the United Nations Sustainable Development Goals.
One of the 4 projects they invest in is the solar lightening project in Kenya project, certified by Gold Standard, that aims to replace fuel based indoor lightening by a clean, safe and cheap alternative. The system enables hundreds of thousands of people to save money, better connect with the world through microfinance and reduce CO2 and black carbon emissions dramatically. 1 household system saves an average 0.13 tonnes of CO2 and 387 kg carbon black per year.
In order for HMC to use the credits to offset part of their emissions the credits have been retired in the Gold Standard Registry (validated by Certifying Bodies). Kenya can include the overall reductions in its national report, as the credit credits are not transferred out of the coutry as ITMOS under Article 6.2 The national reporting happen under another regime than of private companies. The home country of HMC, the Netherlands is also NOT including the offsets in their national report. So there is no double counting amongst countries.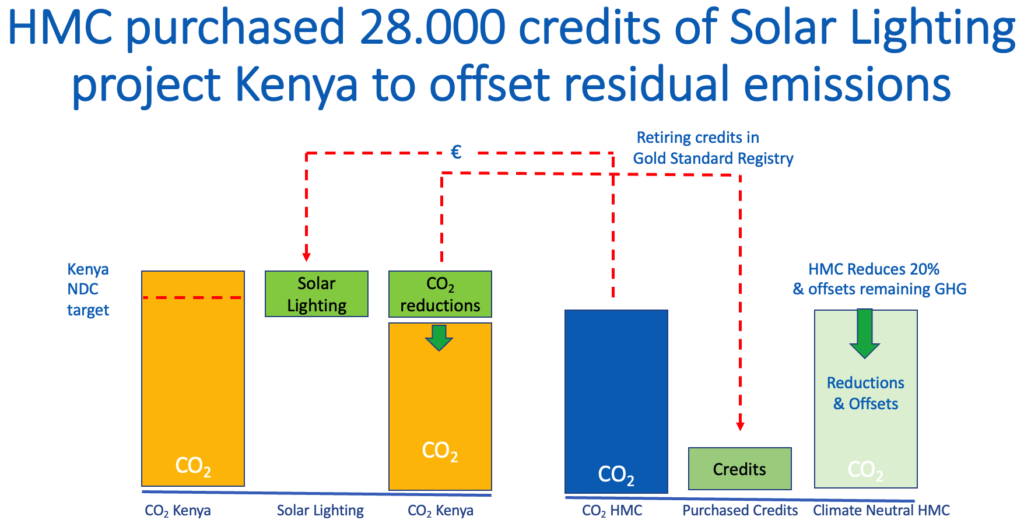 Voluntary Carbon Market Rules
The Integrity Council for the Voluntary Carbon Market (IC_VCM) published the Core Carbon Principles for use of carbon credits. Companies use credits voluntarily to offset residual emissions AND help host country meet targets. If a host country wants transfer specific credits abroad Art 6 "corresponding adjustment" is needed. The voluntary carbon credit programmes, like Verra and Gold Standard register, track and retire the credit and add the CA-label to it. The ICVCM and VCMI will co-lead a joint work program to elaborate corresponding adjustment if needed. It will also elaborate if and how voluntary carbon credit use will require payment of "Share of Proceeds" for Adaptation Finance (is required under Art 6.4 of Paris Agreement)
The CO2 market will play a role in achieving the Paris Agreement
According to a study by Climate Focus, ten countries, including Canada, Japan and Chile and a number of international organizations, such as the World Bank, EBRD and Nefco are engaged in such international CO2 pilots.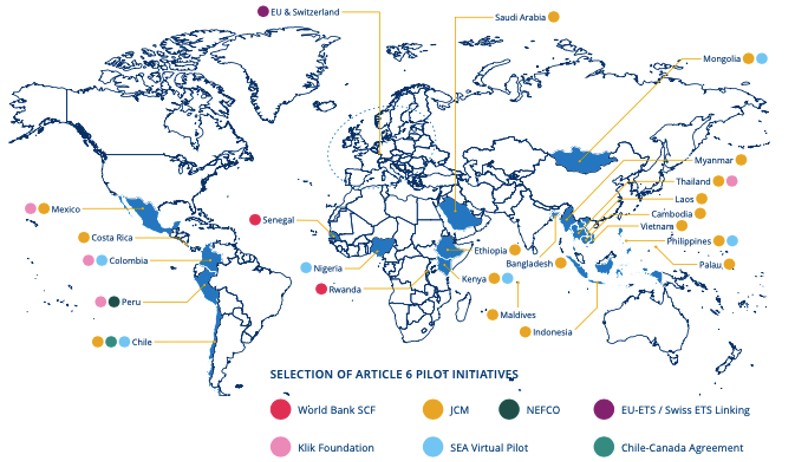 These examples illustrate how two countries can achieve more ambitious CO2 targets using the CO2 market and international transfer of carbon credits. And companies that voluntarily offset their CO2 emissions through international CO2 projects contribute to achieving their CO2 target in those countries. These companies do this out of responsibility for their climate impact or because they want to sell climate-neutral projects or services. Companies that agree on the CO2 plans within the framework of the Science Based Targets may also use offsets in addition to their own absolute reductions.

Future developments: EU Climate Law, EU ETS, 2040 target
In the future, the scope of CO2 obligations will increase and more sectors and companies will receive a CO2 tax from their government or fall under emissions trading. As a result, the reductions that are realized in another country will have to be transferred to contribute to the country in which that company is located (so-called Corresponding Adjustment).
I hope that the European Member States will also make use of this opportunity. Sweden prepares CO2 deals with Ethiopia, Nepal, Cambodia. German Secretary of State for the Environment, Jochen Flasbarth, said at a meeting last month that Art 6 reductions could be on top of the EU's 55% reduction. In November Switzerland signed it second ITMO agreement with Ghana, and more are planned. In the European Parliament, previously, an amendment proposal for this from the EPP has not yet achieved a majority. But the examples mentioned certainly deserve to be followed. The EU Council will discuss the European Climate Law again in December. The European Commission is now holding consultations for the target setting for 2040. That could also include seeking insights into use of international #carboncredits.