Tropical deforestation still contributes some 17% to global greenhouse gas emissions and the problem is on the radar of the EU and against EU driven deforestation. However, the focus is limited to negative incentives: on import restrictions and penalties. But forest nations ask for support, for example for sustainable farming without clearing forests. Making use of the global carbon market can also bring finance for forest protection (so called 'REDD+' credits). But as long as the EU is still reluctant on this issue, the benefits of using REDD-credits are overlooked. The European Commission has to come up with a forest strategy due in early 2021. A glimpse of hope can however be seen in the note by France and Italy presented to the Environment Council on December 15, in which they call on one hand for mandatory due diligence and a 'deforestation free' label, but also to "ensure that trade agreements between EU and external partners 'help to reduce deforestation in these partner countries".
Agreement on Paris Agreement carbon market rules will support REDD
As soon as Paris Agreement parties agree on carbon market rules I call on the EU to indeed make use of REDD credits to help meet part of the increased climate target. Tropical forest nations offer the opportunities as 'conditional reductions' in their national climate plans, meaning, depending on climate finance. This can be done via: 1) an additional special forest protection CO2 target, 2) govmnt–govmnt deal, like the Swiss one, or 3) via linking the EU ETS with the global carbon market for a small portion.
The European Parliament is calling in their October 22, 2020 report the EU Commission for strengthening climate benefits from forests and the forest-based value chain – CO2 absorption and carbon storage in wood-based products – but measures are limited to "checks at EU borders on illegal logging and preventing access to unsustainably produced wood and other products that contribute to forest loss". They want mandatory 'due diligence' for companies placing products on the EU market. Companies that fail to do so should face penalties.
Everyone agrees that voluntary measures to halt and reverse global deforestation have failed. The adoption of this report gives us the chance to create a functioning and fair framework, based on mandatory due diligence. It is another important step towards halting and reversing EU-driven global deforestation: MEP Delara Burkhardt (S&D, Germany)
Green Gigaton Challenge
On the other hand there was the launch, November 19 of the Green Gigaton Challenge , a new global effort to catalyse funds for one gigaton of high-quality  emissions reductions annually from natural climate solutions by 2025. The Challenge brings together a coalition of public, private and philanthropic partners to channel funds into efforts to arrest deforestation. Earlier research shows the global carbon market can double the reductions under current Paris pledges for the same cost as countries acting alone. REDD+ represents the greatest single part of this opportunity. One gigaton of annual transactions from REDD+ is the order of what is needed to cost-effectively achieve the current Paris Agreement pledges and about half of what would be needed if all countries responded by increasing their ambition consistent with a 2-degree target, they say.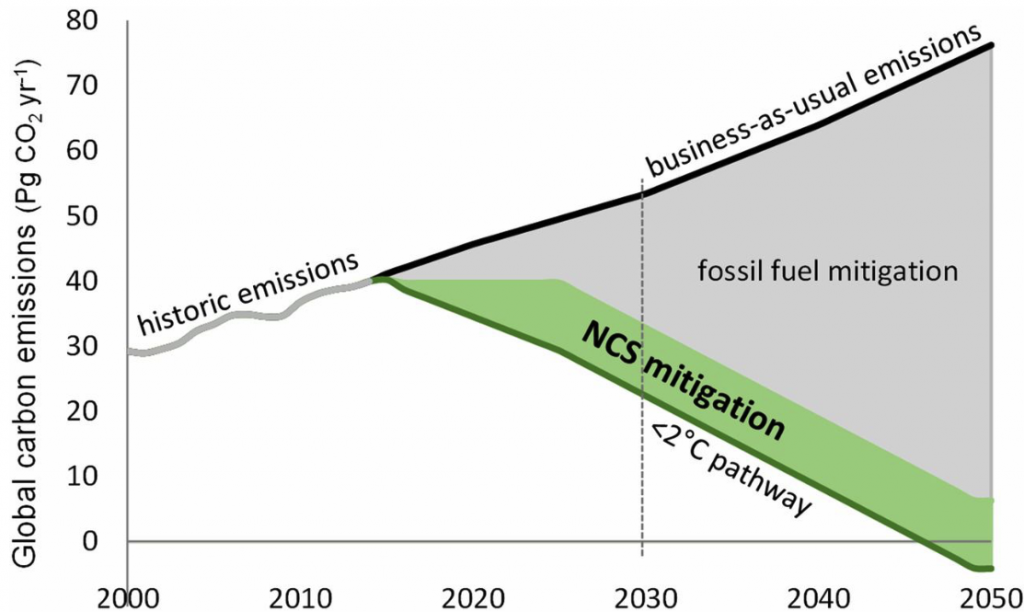 Forest protection 30 times more effective for the climate than planting trees.
Background was the mind-blowing 2017 study by Griscom who found protecting 1 ha. of mature, carbon and biodiversity-rich forest avoids 100 tons of CO2, while tropical reforestation typically sequesters 3 tons of CO2 per ha./annum; 30 times more land, or 30 more years, are needed to generate the same reductions. Currently there is a very strong focus on tree planting projects); but to meet Paris targets in time and at less cost it is better to invest in forest protection.
Why are positive incentives ignored by the EU?
The European Union has always expressed willingness to lead on this issue as far back as the Copenhagen climate talks in 2009. Indeed, the European Parliament even agreed that "significant financial support, as well as technical and administrative assistance, must be provided to developing countries to halt gross tropical deforestation by 2020 at the latest." It also recognized that demonstrating this commitment would be critical to achieving a new global climate deal, and it called for the creation of a Global Forest Carbon Mechanism that should be financed "by earmarking a significant part of the auctioning revenues from the EU ETS [Emissions Trading System] to reduce deforestation and forest degradation in developing countries."
Agreement on Safeguards
The resolution was contingent on the creation of universal rules for measuring carbon flows into and out of forests – rules that were laid down in the Warsaw Framework for REDD+ (2013) and enshrined in the Paris Agreement (Article 5). So why has this promise been ignored? In part, because of a false perception that forest conservation competes with green investments within the European Union and reductions in fossil fuels. In actual fact, to avoid dangerous climate change, we need them all. The other reason is, as said before, the reluctance of the EU to engage in the global carbon market. Forward thinking countries like Sweden, Norway and Switzerland are testing CO2 deals. And The Netherlands and Norway are supporting a pilot in Brazil (Conserve) to reward farmers that protect trees on their lands. The EU should seek cooperation and exchange experience and finance capacity building and additional action to tackle deforestation. I also believe that REDD+ offers an opportunity to ratchet up the EU's own 2030 CO2 target even further or for the 2040 target, say, a quarter of the additional saving. This would make a significant and welcome contribution to global climate change mitigation while keeping trees in the ground.
Issues to address: indigenous peoples rights and leakage prevention
REDD+ does raise a number of issues around, for example, the rights of indigenous peoples. However, the current framework includes various safeguards that need to be respected. These include recognising the rights of forest-dependent people, and aim to ensure indigenous peoples and local communities consent to, participate in and benefit from REDD+ activities. Social benefits can arise from a range of activities, which may occur outside forests – for example, through increasing agricultural productivity without cutting more trees. Many indigenous groups now welcome REDD+ and believe it has helped strengthen their rights. And in places where REDD+ is up and running, like the state of Acre in the Brazilian Amazon, smallholders, communities and indigenous peoples are already benefiting.
An other issue is preventing of leakage, when drivers of forest clearing are not addressed. That is why VCS en ART-Trees focus on jurisdictional REDD and give attention to alternative economic opportunities for local communities. Examples: the Tambopata project in Peru which engages local communities in agricultural projects and COMACO's Landscape Management Project in Zambia.
REDD+ is, of course, no silver bullet. But it's a key weapon in our climate arsenal, and is critical to realising zero deforestation and leveraging investment in sustainable agriculture and forestry in the context of low emissions development.